Supporting our Veterans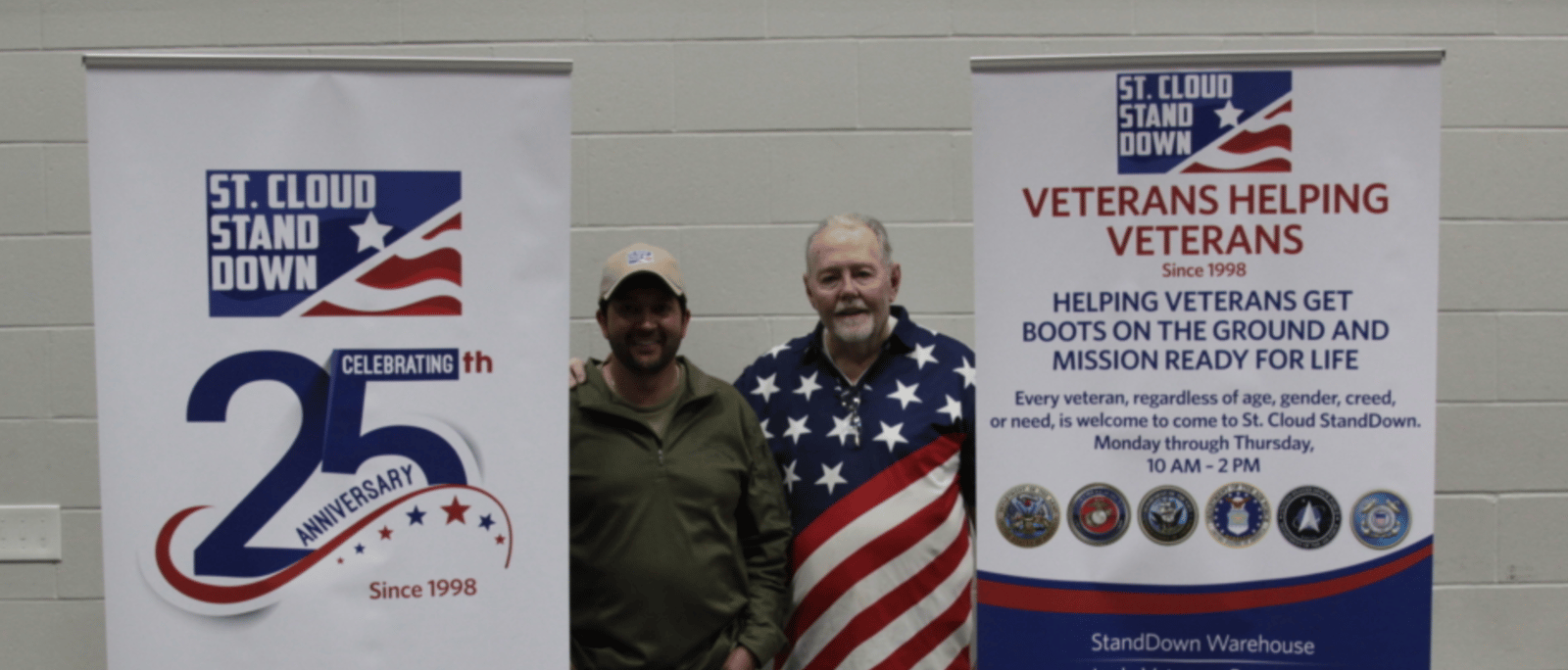 As Memorial Day nears, we take time to reflect on those who have made the ultimate sacrifice through their service. We recognize their contributions to our community and country and give thanks for all they have done. In an effort to ensure their legacy is not lost, we continue to foster a community that honors, recognizes, and celebrates those who have and continue to serve. Greater St. Cloud has a variety of resources and support networks for area veterans, military spouses, and those currently serving. As a community, we go beyond being "military friendly", and are truly military-focused.
Veterans Employment Connection
The Veterans Employment Connection group is made up of local employers and Veteran service providers with the goal of increasing Veteran employment in the St. Cloud area. The group has hosted Veteran job fairs at the St. Cloud VA Medical Center, as well as employer education events designed to provide local employers information on understanding Veteran resumes, incentives for hiring Veterans, and opportunities to participate in apprenticeships or other training programs. This group also assisted St. Cloud Shines in gathering the information below and is a great resource.

If you have questions about the St. Cloud Veterans Employment Connection group or would like to get involved, please contact Theresa Henning, Community Employment Coordinator, at 320-248-1452.


St. Cloud StandDown, Inc. is a non-profit 501(c)3, veteran-run organization. 2023 marks their 25th year of "Veterans helping Veterans" in the St. Cloud area and beyond. Established in 1998, StandDown is administered by a Board of Directors consisting of veterans and community representatives. The program is staffed entirely by veterans and volunteers who donate their time. StandDown assists male and female veterans in Central Minnesota and the surrounding areas with resources and merchandise free of charge, providing food, clothing, accessories, footwear, job connections, housing information, and other resources for veterans in need.
The St. Cloud StandDown location consists of multiple operations, all providing complimentary resources and services to Veterans, including:
StandDown Warehouse

Lady Veterans Boutique
Clifford Beck Veteran Resource Center
Gentlemen's Quarters Barbershop
Through the programs listed above, and the annual "Stand Down Veteran Resource Fair" held each October, St. Cloud StandDown helps hundreds of Veterans in need each year. This year's St. Cloud StandDown Veteran Resource Fair will take place on Thursday, October 26th, 2023 at the River's Edge Convention Center and brings dozens of Veteran-focused resources (employment, housing, benefits, clothing, food, haircuts) under one roof.
"What I love most about StandDown is that the core volunteer base is made up of Vietnam-era veterans. To see people whose service was not recognized in the way it should have been so focused on giving back and ensuring no one else has the experience they did is truly amazing and shows the resiliency of the human spirit and the lasting call to service within our military veterans," shared Meghan Murphy, a civilian volunteer with St. Cloud StandDown.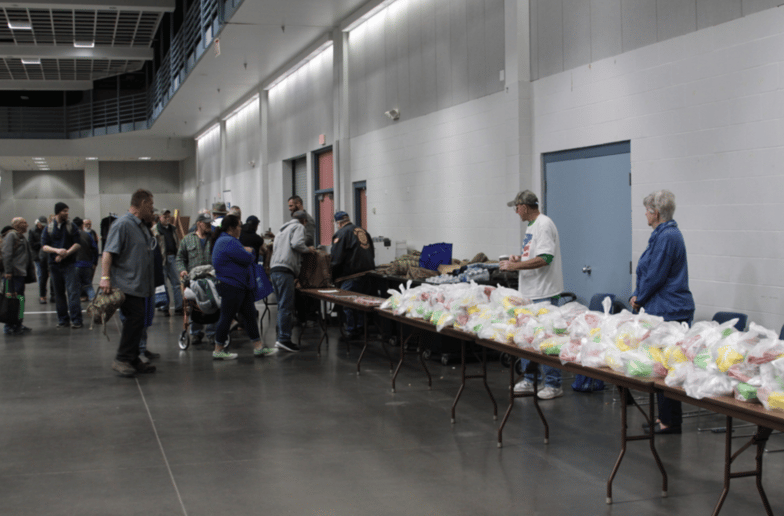 "Beyond the Yellow Ribbon" (BTYR) community networks exist throughout the state of Minnesota. They are committed to establishing a well-managed safety net of a network for veterans, service members, military spouses and those currently serving within their communities. BTYR community networks in cities and counties across the state support their military community through volunteering, hosting special events, sending care packages to deployed military members, and many other activities. They look to offer support in unique areas where other benefits may not be readily available. The Central MN network includes 9 cities – St. Cloud, St. Joseph, Sartell, Sauk Rapids, St. Augusta, Waite Park, Cold Spring, Richmond, and Rockville. This local network has done amazing work in supporting homeless Veterans transitioning into housing by assisting with moving and securing needed household items and ensuring local units receive support and recognition as they leave and return from deployments.


In addition to the Beyond the Yellow Ribbon – Central MN Warrior 2 Citizen community network, the St. Cloud area is also home to four of Minnesota's "Beyond the Yellow Ribbon Companies" including Capital One, St. Cloud State University, St. Cloud Technical & Community College, and the St. Cloud Veterans Affairs Health Care System. Beyond the Yellow Ribbon companies' and organizations' efforts are an ongoing commitment to supporting military employees and communities, building a stronger, more compassionate, equitable, and inclusive workplace. These organizations have gone through an extensive certification process in partnership with the Minnesota Department of Military Affairs to ensure the key areas of the company including recruiting, training, benefits, and community and employee outreach are inclusive of military-connected employees and community members. There are over 70 Beyond the Yellow Ribbon Companies across Minnesota with more organizations joining each year. BTYR companies across the state come together twice a year to collaborate, share best practices, and continue to build upon the strong network of military support offered through their organizations. The next BTYR company conference is being hosted in St. Cloud by Capital One in November. This will be the first time a St. Cloud area company has hosted the seminar.
Organizations interested in becoming Beyond the Yellow Ribbon can find more information through the Minnesota National Guard website or by contacting the state BTYR Company Outreach Coordinator, Taylor Kristoffe-Jones (Taylor.Kristoffe-Jones@state.mn.us)


The St. Cloud VA Health Care System is headquartered at the St. Cloud VA Medical Center in St. Cloud. VA Clinics are in Alexandria, Brainerd, and Montevideo, Minnesota. Serving over 38,000 enrolled veterans in 27 counties in central and west central Minnesota, the St. Cloud VA provides primary medical, subspecialty medical, urgent, specialty, and mental health care, acute psychiatry services, and extended care and rehabilitation services through outpatient, residential, and inpatients programs at the 388-bed VA Medical Center and community clinics. The St. Cloud VA also provides a number of special emphasis services including residential and outpatient mental health and substance abuse programs, a Post Traumatic Stress Disorder (PTSD) treatment program, a Mental Health Residential Rehabilitation Treatment Program, outpatient programming for serious mental illness, homeless Veterans programs, a suicide prevention program, a Post 9/11 Transition and Care Management program, a Women Veterans program, an Incarcerated Veteran Program, and a Veterans Justice Outreach Program. Extended care and rehabilitation services include skilled nursing care, home-based primary care, adult day health care, memory care, hospice and palliative care, ventilator care, and a variety of rehabilitation services including physical therapy, speech pathology, and occupational therapy. Learn more at https://www.va.gov/st-cloud-health-care/
#StCloudShines